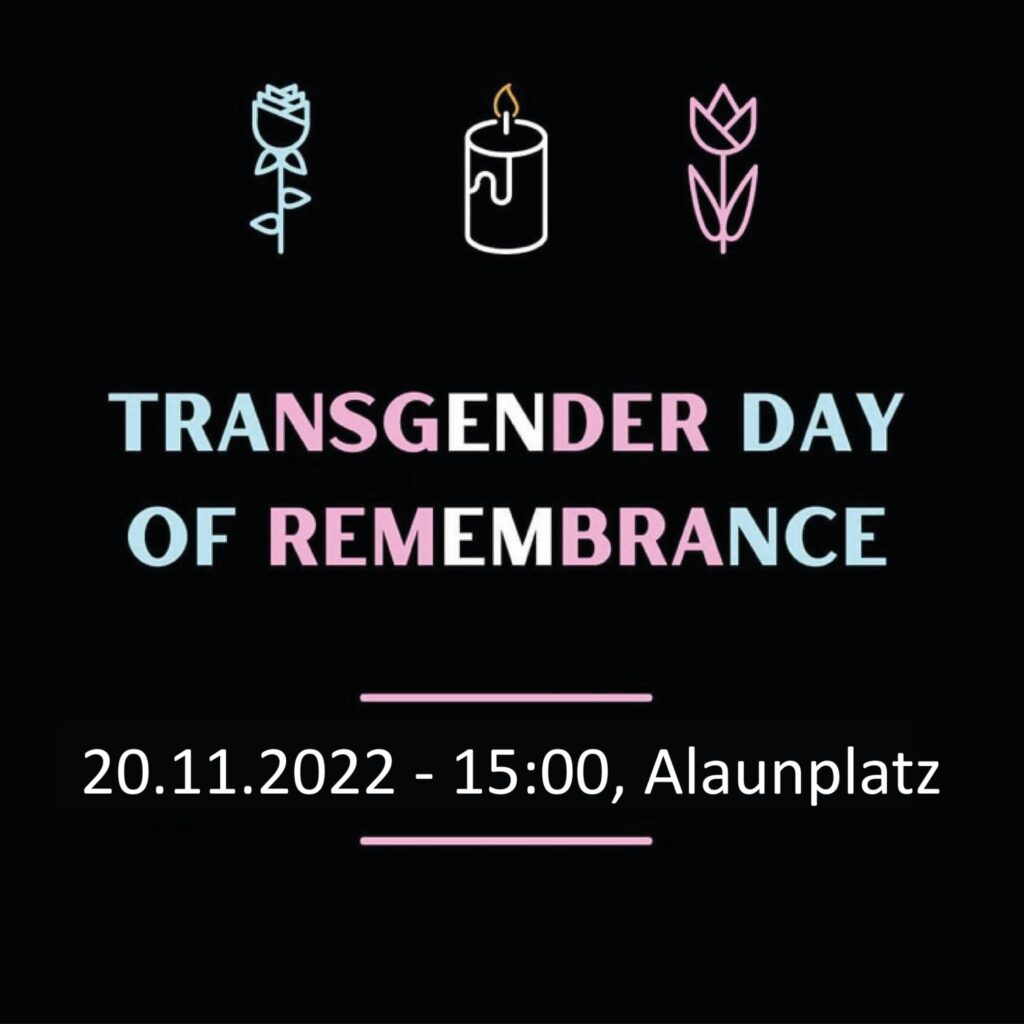 We cordially invite you to join the vigil 3pm at Alaunplatz.
327! That's 327 trans, non-binary and gender non-conforming people too many. All these people have been murdered because of transphobia in the past twelve months.
On 20 November – the Transgender Day of Remembrance – we want to remember these people. We are creating a place to mourn together, but also to show our resistance. 
If you want to take part and feel like it, then come to our vigil on 20th of november at 3pm at Alaunplatz* (Dresden Neustadt).
We want to commemorate by writing down the names of the victims together. We would like to sing together with the demo choir and give you the opportunity to speak. The vigil will be accompanied by different speeches.
Afterwards, there will be a room in the Malobeo to warm up, exchange ideas and have a community meal.
You're invited to bring candles and flowers, please come tested and with a mask! 
If you need anything specific to participate, please feel free to contact us.
Take care and see you on Sunday!

P.S.: At 7pm the film "Framing Agnes" will be shown at the Zentralkino, admission is free.
Also watch out for announcements about 25.11, the international day against patriarchal violence. This is accompanied by a series of events: https://tu-dresden.de/tu-dresden/universitaetskultur/antidiskriminierung/internationaler-tag-zu-beseitigung-der-gewalt-gegen-frauen-geschlechtsspezifische-gewalt
* The Alaunplatz can be reached via the Alaunplatz stop with line 13. The Alaunplatz stop allows barrier-free entry/exit and from there it is about one minute to the vigil. This is accessible without barriers. 
The vigil will be held in English and German and all speeches will be given in both languages. There will also be printed copys on site.